Outpatient Consultation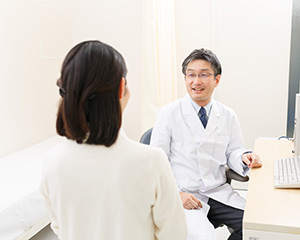 Monday to Friday: 8:30-11:30 AM
On Saturdays, only patients with the recommendation letter are accommodated. For those who would like to have a thorough check-ups, please come within working hours from Monday to Friday.
For those with their recommendation letter- there might be an exemption in terms of an emergency case.
For those who doesn't have their recommendation letter - as a first timer, you are asked to pay for the medical examination fee fixed since April 1, 2014 in an amount of ¥5,400
if the assigned doctor is unavailable during your check up schedule, another doctor will take charge of your check ups. Surgeries must be scheduled (Mammary gland, Orthopedics, Neurosurgeon, Ophthalmology,

EENT,

Plastic Surgery). Please check your schedule of your check ups and surgery upon going to the hospital. Refer to the list of schedules on each medical department.
No medical check-ups on:
Saturday
Sunday
National Holidays
Year-End Holiday (December 29- January 3) subject to change every year
Anniversary of the Institution (July 3)
bring your recommendation letter
The ministry of health much considers the coordination within the various medical institutions and clinics as the pillar of the medical administration. The doctors and other medical professionals are ought to work in unity on every situation by sharing and exchanging details of a patient and so therefore we are asked to always bring the letter of recommendation upon having a check up.
Medical Examination Fee
On the April of the eight year of the Heisei Era, during the revision of the law of health insurance, all hospitals which acquire more than 200 hospital beds are asked to implement this ""initial medical examination fee system"". Therefore for those who does not possess their recommendation letter from the other hospitals, they are charged of a fee upon their initial check up. However, there will be exemptions of fees on the following.
conditions:
if there is an recommendation letter from other medical institutions
if the patient is on the ambulance upon entering the hospital, or if it is an emergency
if he/she receives medical assistance under the law of the Livelihood Protection
if he/she has a public funded health card (ex. Medical Assistance Certificate for Disabled Person)
Requirements
Passport or Permanent Resident Certificate
Official Health Card (if acquired)
Doctor's recommendation letter (if acquired)
Payments
Payment by cash / IC Card, Credit Card, Debit Card, Shinhan Card, KB Kookmin Card are done in the payment counter.





Flow of the Initial Check-Up
For those patients who reserved their examination schedule one day before, proceed to 1st floor ""for those who have recommendation letter"" receiving counter. For those who does not have their check-up schedule, proceed to 1st floor ""First-timers"" receiving counter.
Upon returning to the hospital
By having clinical records, There is a machine prepared for a patient who comes back to the hospital. For those patients who have their check-up schedule, use the machine mentioned above for receiving process. Operation time starts at 8:20 AM. The hospital follows its country's medical policy, gives strict observation to the confined patients, and prioritizes the needs of out patients upon having their medical treatments. Hence with proper understanding, we hope for your kind support and cooperation.